Four divisions at FINMA assume responsible for its supervisory activities. Cross-divisional functions are consolidated in four further divisions.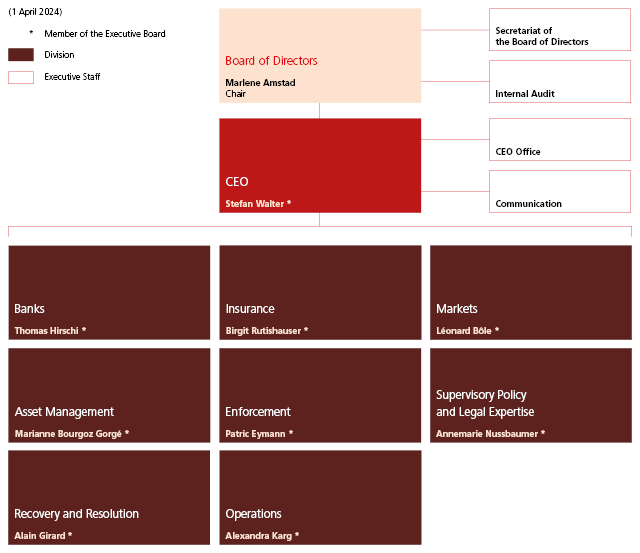 Four supervision areas
Licensing and supervising banks and securities firms are the responsibility of the Banks division. The Insurance division performs the same tasks for the insurance sectors. Responsibility for the supervision of financial market infrastructures, institutions with a FinTech licence and the parabanking sector including the supervisory organisations lies with the Markets division. The combating of money laundering also falls within the remit of this division, which means it is also responsible for the monitoring of self-regulatory organisations as regards compliance with the Anti-Money Laundering Act. The Asset Management division is responsible for authorising and supervising asset managers (of funds) and collective investment schemes. It also licenses portfolio managers and trustees pursuant to the Financial Institutions Act (FinIA) and performs case-based supervision.
Four divisions with a cross-divisional function
The Enforcement division is responsible for the enforcement of supervisory law in all areas and for market supervision. The Strategic Services division main areas of responsibility are international cooperation, legal frameworks and communication. The Recovery and Resolution division ensures that FINMA can act efficiently and effectively in a crisis situation. The Operations division provides FINMA staff with the required working tools and performs internal service and control functions.