FINMA was established in 2009 from its three predecessor institutions: the Swiss Federal Banking Commission (SFBC), the Federal Office of Private Insurance (FOPI) and the Anti-Money Laundering Control Authority (AMLCO). In establishing FINMA, the legislator transferred responsibility for financial market supervision to an integrated authority.
Board of Directors and Executive Board
FINMA, an independent supervisory authority, has a modern management structure with a board of directors, an executive board and an external auditor in the form of the Swiss Federal Audit Office (SFAO).
As FINMA's strategic management body and in accordance with the Financial Market Supervision Act, the
Board of Directors
comprises seven to nine independent expert members. It decides on matters of substantial importance, issues ordinances and circulars, and is responsible for
FINMA's budget
. It also ensures internal controls by means of an
internal audit unit
and oversees the Executive Board.
The operative business is managed by the
Executive Board
, which is made up of nine members: a chief executive officer and the eight heads of the respective
divisions
. The Executive Board prepares the necessary files and materials for decisions to be taken by the Board of Directors and is responsible for implementing the resolutions of this management body. For all matters that do not fall to the Board of Directors, the Executive Board reaches its own decisions.
Corporate governance
As a counterbalance to FINMA's independence, it has been made accountable to and is subject to the overall political supervision of the Federal Government. It is of vital importance to FINMA that its staff and third parties acting on its behalf conduct themselves with integrity and refrain from any activity that could jeopardise its image and credibility. FINMA has its own
Personnel Ordinance
and has issued a
code of conduct
. The latter sets out strict instructions, particularly with regard to the handling of conflicts of interest that may arise in connection with activities carried out on FINMA's behalf. This code of conduct is directed at all persons acting for FINMA, namely the Board of Directors and all staff members, whether they are employed on either a permanent or temporary basis.
Headcount
In 2020, FINMA employed an average of 549 employees, across 478 temporary and permanent full-time equivalent positions.


Its staff comprise a broad range of specialists working together on an interdisciplinary basis. FINMA employs specialists from the fields of law, economics, mathematics, auditing, the actuarial profession, accounting and investment, among others.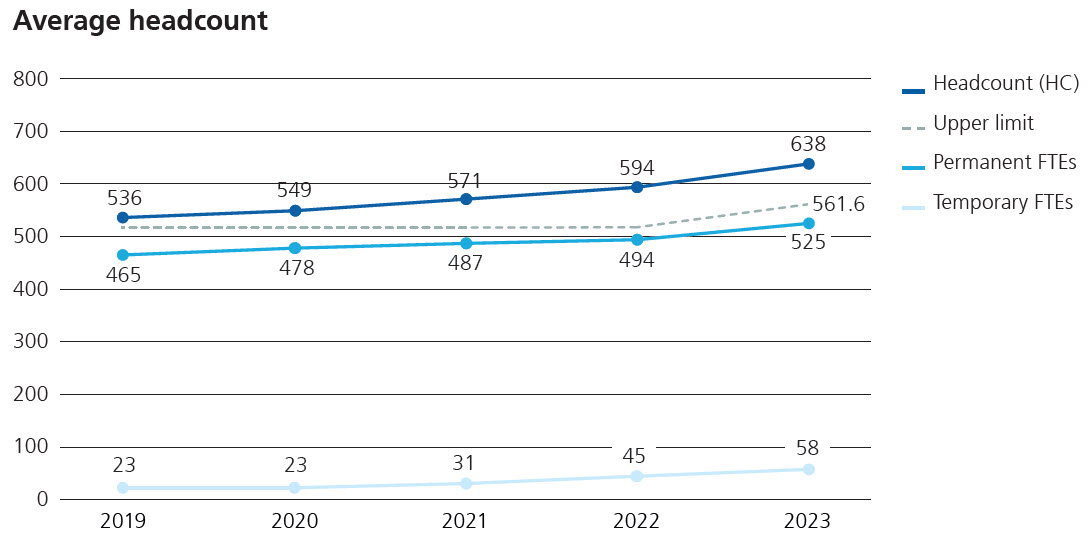 Since 2009, FINMA has registered similarly strong growth to that of other European financial market supervisory authorities. This growth can be attributed to greater regulatory requirements in the aftermath of the financial crisis between 2007 and 2008 and to the professionalisation of the supervisory sector, for instance with the introduction of the risk-based supervisory approach. FINMA invests the majority of its resources in its core tasks of licensing, supervision and enforcement.