The Executive Board manages FINMA's operating business. It ensures that the resolutions of the Board of Directors are implemented. It also prepares the necessary files and materials for decisions to be taken by the Board of Directors.


In particular, the issuing of licenses to financial institutions, decisions on supervisory matters of cross-divisional significance and key management, organisational and personnel issues fall within the remit of the Executive Board.


The Chief Executive Officer heads the Executive Board and its divisional heads and is responsible for ensuring compliance with the budget approved by the Board of Directors. The Deputy is appointed by the Board of Directors at the request of the CEO on a rotating basis.


The authority to initiate and close enforcement proceedings employed by FINMA to assert, where necessary, supervisory law has been delegated by the Executive Board to the Enforcement Committee (ENA). This committee comprises three permanent members: the Chief Executive Officer (Chair), as well as the heads of the Strategic Services and Enforcement divisions.
Urban Angehrn, CEO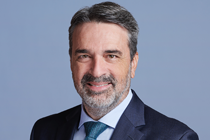 Urban Angehrn has been FINMA's CEO since 1 November 2021. From 2015 to 2021 he was Group Chief Investment Officer and a member of the Executive Committee and previously held various managerial roles at Zurich Insurance Group. Prior to that, the mathematician held various roles at AXA Winterthur, Credit Suisse First Boston and JP Morgan.