This division ensures that FINMA can act efficiently and effectively in a crisis situation. It comprises four organisational units.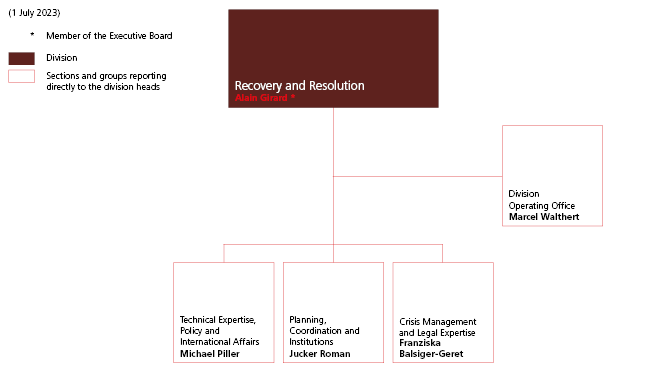 International Affairs and Policy
This unit establishes and fosters international contacts with partner authorities. It is also responsible for regulatory projects, in particular for "too big to fail" legislation and insolvency and restructuring law. Interacting with the Swiss National Bank and deposit protection are other topics handled by this unit.
Operations and Insolvency Proceedings
This unit is in charge of the administrative and organisational management of the division. It also ensures that its operations are carried out in a standardised and efficient manner and assures the prompt execution of bankruptcy proceedings.
Recovery and Resolution Planning
Developing resolution strategies for systemically important institutions is handled by the Recovery and Resolution Planning group. It also prepares resolution plans, approves recovery plans and reviews emergency plans for these institutions.
Restructuring and Insolvency
This team's main function is to assume the role of a crisis manager. It supervises restructuring proceedings, including resolution, of licence holders at risk of destabilisation and handles complex insolvency proceedings.