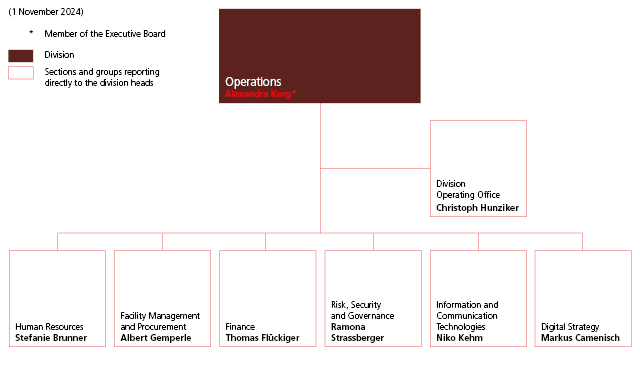 Human Resources
Human Resources acts as the FINMA divisions' strategic and service partner for all HR-related tasks. It coordinates, oversees and supports the supervision areas in the entire range of operational and strategic HR processes, as well as being the point of contact and advice centre for employees and management staff.
Information and Communication Technologies
The Information and Communication Technologies section is responsible for all the divisions' ICT concerns, providing optimal support of their business processes by enhancing and ensuring the quality of all FINMA's telecommunications infrastructure.
Finance
The Finance group ensures annual financial planning, regular financial controlling and reporting and annual financial reporting. It is also responsible for liquidity planning in connection with the levying of fees and charges. An audit of the FINMA annual financial statements, which are prepared in accordance with the IFRS accounting standard, is performed once a year by the Swiss Federal Audit Office.
Facility Management and Purchasing
The Facility Management and Purchasing section ensures the management of documents and buildings for FINMA. It operates the client reception desk and the telephone switchboard, and is also responsible for central purchasing. Measures and precautions connected to personal safety, property security and environmental protection at FINMA are also part of its duties.
Procurement and Contract Management
The Procurement and Contract Management group supports the FINMA divisions with its efficient and legally compliant services. It also ensures that contracts are controlled and stored centrally.
Internal Control System and Enterprise Risk Management
The Internal Control System and Enterprise Risk Management group manages FINMA's internal risk management process in accordance with strict risk governance requirements. This includes the Board of Directors, the Executive Board and FINMA's staff. The group also checks and assesses the controls of the internal control system and is responsible for precautions and measures necessary for information management and data security at FINMA, as well as for business continuity management.
Business Support Services
The Business Support Services group ensures that organisational changes and the operational infrastructure and systems within FINMA are carried out in a controlled and coordinated manner. It is responsible for FINMA's portfolio management, as well as the controlling and reporting of all its organisational and infrastructure projects. FINMA-wide business processes are identified, categorised, documented and reviewed in accordance with the process governance guidelines set out by this group.