The Strategic Services division employs a range of specialist teams.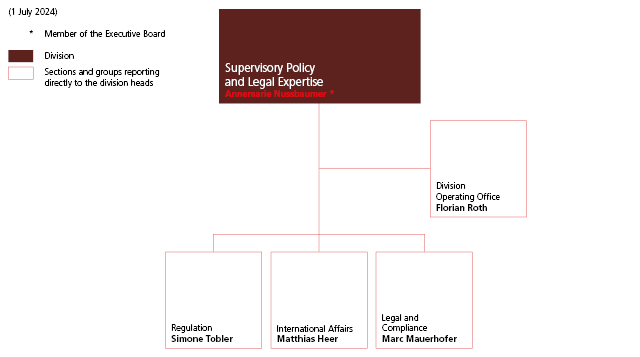 International Affairs
The International Affairs group is the central point of contact for FINMA's international activities. In addition to the management and coordination of international bodies and maintaining contact with foreign supervisory authorities and relevant EU organisations, this group is also responsible for the negotiation of international agreements.
Regulation
The Regulation group is responsible for managing, reviewing and developing the areas of financial market regulation relevant for FINMA and the coordination of ongoing FINMA regulation projects. This group also supports the divisions in drawing up new regulations such as FINMA ordinances and circulars.
Legal and Compliance
The Legal and Compliance group fulfils the central legal function at FINMA. As such, it manages all legal issues relating to FINMA including data protection, contract and procurement law. Moreover, the group is responsible for implementing the code of conduct and internal directives. The group also manages the application process for potential mandataries. In addition, Legal and Compliance is responsible for liability procedures against FINMA submitted to the State Liability Committee.
General Secretariat and Communications
The General Secretariat and Communications section is charged with the organisational duties relating to FINMA's Executive Board and coordinating activities with the Board of Directors. The General Secretariat also cultivates FINMA's relations with the Swiss Federal Council, the Federal Department of Finance and the General Assembly as well as with other political players. This unit also coordinates FINMA's responses to enquiries from journalists, the public, parliamentarians, government bodies and authorities. Its communication specialists are responsible for handling all FINMA's internal and external communication tasks.

Due to the diversity of its duties, the Strategic Services division provides support to FINMA's executive management and the other divisions, adopting a cross-sectoral approach which ultimately contributes to FINMA's development.